The CEO's Field Guide to Marketing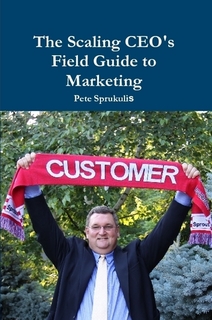 Published in 2015 and updated in 2018, The "Scaling CEO's Field Guide to Marketing" is the brain child of Pete Sprukulis based on spending over 25 years working as a marketer and sales professional for a variety of companies including large multinationals, to small multinationals, to start-ups.  Having started with an MBA in 1985, Pete never found a situation where the theory was quite right…it always had an "*" beside everything.  Always with the "yes, but…".  The theory never seemed to work its way into practicality.
As a result, Pete started to document what worked and that is what you find in this book.  It is a series of anecdotes that teach how to accomplish the go-to-market effort with a hands-on practical view.  This is how Pete takes his products and services to market. Today this is a valuable tool for leaders trying to develop their own companies and figuring out how to take their new innovations to market - this helps guide them on the quick efficient path to success.
Here is a clip from a recent speaking engagement.

The topics in the book relate to the chapters…take a peek:
Chapter  1 – What is Marketing?
Chapter  2 – The Answer to Every Marketing Question
Chapter  3 – The Customer
Chapter  4 – The Types of Marketing
Chapter  5 – Segmentation
Chapter  6 – The Marketing Plan
Chapter  7 – The Message Reference
Chapter  8 – Integrating Your Go-to-Market Plans
Chapter  9 – "Tweeners"
Chapter 10 – The 4 P's of Marketing
Chapter 11 – Risk
Chapter 12 – Customer Intimacy
Chapter 13 – Arrogance
Chapter 14 – Sales versus Marketing
Chapter 15 – Product Development versus Marketing
Chapter 16 – The Marketing Budget
Chapter 17 – Consultative vs. Solution vs. Product
Chapter 18 – Marketing Metrics
Chapter 19 – The Science of Going-to-Market
Chapter 20 – The Purchasing Process
Chapter 21 - Digital Marketing
Chapter 22 – There Needs To Be The "Will"!
Chapter 23 – Bringing It All Together
These are the topics, and all are available as topics for listening to Pete speak.  For more information on getting Peter to personally speak on any of these topics, click here.
We are able to offer copies of the book and scarf to attendees to further train and engage the audience.